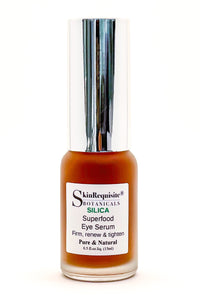 SKINREQUISITE
Eye Renewal Silica Serum 🌱Vegan
Regular price
$36.00
$0.00
Unit price
per
An advanced age-fighting serum-gel to help diminish the appearance of dark circles and fine lines. 
Silica, the beauty mineral, is a main constituent of collagen, which is responsible for youthful appearance. It functions as a glue, that helps to hold together the structure of the skin  
Silica in clinical studies has shown to slow down the aging process, participate in cell metabolism and promote cell division.
Along with deeply hydrating Pantothenic Acid (Vitamin B5), Niacinamide (Vitamin B3), and Hyaluronic Acid, skin is left looking and feeling more dense, firm, supple, restored, and youthful.
Additionally, this eye serum contains many nutrients including calcium, manganese, iron, saponins, flavonoids, tannins, caffeic acid esters, alkaloids, phytosterols, phenolic acids, glycosides, and aconitic acid.
Apply after Skinrequisite Vitamin C Booster and before Skinrequisite moisturizer. For rested eyes effect apply in the evening prior Skinrequisite Star Anise Eye Contour Cream.
How to use:
Pump a small amount onto fingerprints and gently spread around eye area focusing on lid, brow bone, under-eye and creases. 

Ingredients:

Witch Hazel Hydrosol, Witch Hazel Extract, Bamboo Extract(70% Silica), Horsetail Extract(60% Silica), Sodium Hyaluronate, Glucosamine, MSM, Pantothetenic Acid(B5) Niacinamide (B3), Potassium Sorbate, Germall Plus.
Best used within 4 months of purchase. Discard after 6 months or refrigerate up to a year. Store in dark and cool place.
---