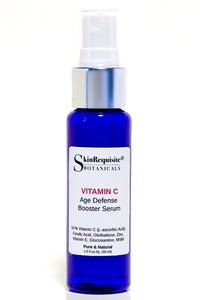 SKINREQUISITE
Vitamin C 18% Skin Booster
Regular price
$42.00
$0.00
Unit price
per
Our 18% Vitamin C(L-ascorbic acid) Booster Serum is a multipurpose workhorse that can protect, repair, and visibly enhance appearance of all skin types, ages and conditions.
Clinically shown to:
improve elasticity 

increase smoothness

visibly enhance complexion

armor skin against pollution and other free radicals

improve acne and rosacea 

strengthen capillaries 
boost collagen and elastin 
Key ingredients + Benefits
Glutathione - is an extremely powerful antioxidant: from skin brightening properties to suppression of wrinkles and increased smoothness
Ferulic Acid - is an antioxidant that works to boost the effects of other antioxidants and decreases formation of fine lines and wrinkles, brown spots, and other signs of premature aging
Vitamin E - antioxidant that encourages healthy skin-tissue growth
Vitamin A - has been shown to smooth wrinkles and clear up acne
Zinc - helps prevent visible signs of aging, keep dark spots at bay, relieve redness, and fight acne
Calcium - has been shown to help your skin regulate cell turnover via cell differentiation by replacing old skin cells with new ones
Magnesium - helps reduce acne, calms sensitive skin and rosacea
Glucosamine - because of its stimulation of hyaluronic acid synthesis, glucosamine has been shown to accelerate wound healing, improve skin hydration, and decrease wrinkles
MSM - helps reinvigorate collagen production after it starts to decline. Anti-inflammatory properties
***Unlike Vitamin C esters, synthetic Vitamin C derivatives, which are considered to have limited permeability and function in skin, our natural form of Vitamin C (L-ascorbic acid), has been proven to be the most effective vital molecule for the skin, a potent antioxidant and free radical scavenger.
Not all vitamin C serums are created equal!
What to look for in a vitamin C serum
* Form: L-ascorbic acid
* Concentration: 10–20 percent
* Basic ingredient combo: L-ascorbic acid, tocopherol (vitamin E), ferulic acid..
* Packaging: Dark or tinted glass bottles with airless delivery: pump or spray
  Suggested use:
Apply only 2-3 sprays Vitamin C 18% serum booster to clean face and neck before serum and moisturizer. Allow each product to fully absorb before applying multiple products. Best used in the am or/and pm. 
Ingredients:

Witch Hazel Hydrosol,  L-ascorbic Acid (Vitamin C), Tocopherol (Natural Vitamin E), Glutathione, Vitamin A (beta-carotene & retinyl palmitate), Ferulic Acid, Zinc Gluconate, Glucosamine, Calcium, Magnesium, MSM, Kosher Certified Food Grade Propylene Glycol, Cane Sugar Alcohol(>1%), Palmarosa Therapeutic Grade EO
Product care:
Keep the bottle air tight. Store in cool and dark place. Best used within 4 months of purchase. Discard when it turns amber.
---