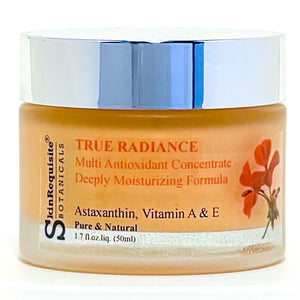 SKINREQUISITE
True Radiance Moisturizer
Regular price
$42.00
$0.00
Unit price
per
Fine lines and wrinkles      ⚫︎⚫︎⚫︎⚫︎⚫︎
Firmness & elasticity         ⚫︎⚫︎⚫︎⚫︎⚫︎
Dryness & dullness            ⚫︎⚫︎⚫︎⚫︎⚫︎
Oily & combination            ⚫︎⚫︎⚫︎⚫︎⚫︎
Hyperpigmentation            ⚫︎⚫︎⚫︎⚫︎⚫︎
Acne and Blemishes           ⚫︎⚫︎⚫︎⚫︎⚪︎        
Sensitivity                            ⚫︎⚫︎⚪︎⚪︎⚪︎
True Radiance Multi Antioxidant Moisturizer will leave your skin look fresh and rejuvenated while fighting signs of aging, photo damage, dehydration,
and even acne.
Features:
Light watery texture 
Double Hyaluronic for extra hydration 
Powerful Antioxidants: Astaxanthin, Vitamin A & E
Subtly scented with Geranium Flower Extract
Astaxanthin
helps stimulate continuous production of collagen in the skin which is responsible in maintaining skin's tone, elasticity and firmness. Astaxanthin can inhibit melanogenesis or reduce melanin production (about 40 percent) diminishing age spots, freckles, and dark eye circles gradually. Topical astaxanthin may act as an effective skin brightening agent, which is a tremendously popular trend in Asia.
Vitamin A helps to speed up healing, prevent breakouts, support the skin's
immune system
and promotes natural moisturizing.
Vitamin E is most commonly known for its benefits for skin health and appearance.
Geranium is reputed to effectively eliminate dead cells, tighten the skin, promote the regeneration of new skin, and diminish signs of aging.
Suggested use:
Apply a pea size to clean face and neck by gently patting it in so all the ingredients can be properly absorbed. For best anti-aging effects and antioxidant protection apply first Skinrequisite Vitamin C 18% Serum Booster.

Enhances olive, beige skin tone appearance. It may leave a slight pink hue to pearly white skin tones. 

Ingredients:
Geranium Flower Water, Mango Butter, Vitamin E (D-Alpha-Tocopherol), Jojoba Oil, Jojoba Ester, Geranium Extract, Sunflower Lecithin, Ginger Root Extract, Chamomile Extract, Collagen Peptide, Sodium Hyaluronate, Astaxanthin, Vitamin A, Glycine, Glucosamine, MSN, Zinc, Magnesium,
Cera Alba, Potassium Sorbate, Germall Plus
Product Care
Store in dark and cool place. Best used within 5 months of purchase. 
---