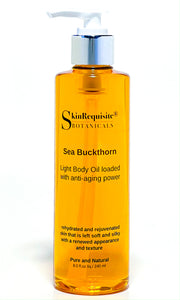 SKINREQUISITE
Sea Buckthorn Body Oil Deeply Nourished Skin
Regular price
$42.00
$0.00
Unit price
per
Fast absorbing light body oil loaded with anti-aging power to nourish, rehydrate and rejuvenate the skin. Naturally scented with sweet orange therapeutic grade essential oil making it ideal as an overall mood enhancer and relaxant.
Sea buckthorn is rich in linoleic acid, an omega-6 fatty acid that plays a crucial role in maintaining the barrier and passage functions of our skin. This allows the nutrients in, while keeping harmful substances out. You'll also find high amounts of alpha-linoleic acid, which is an omega-3 that converts into the potent anti-inflammatory EPA and DHA.
Sea buckthorn is high in essential fatty acids, phytosterols, antioxidants and trace elements like copper, iron and selenium. It promotes circulation in the skin and reduces inflammation to alleviate the pain of irritated skin. It also aids in skin regeneration, keeps skin supple, and slows down the signs of aging. Sea buckthorn is very high in the antioxidant and skin protector Vitamin E, which is what gives the oil its deep, orange color. It is also the reason that this finished cream looks like it has turmeric in it…
Directions
Lightly massage it into cleaned skin when needed. Best used on dump skin after bath or shower. Let it fully absorb before putting on clothing.
Ingredients
Argan Oil, Seabuckthorn Oil, Organic Safflower Oil, Tocopherol (Vitamin E) , Rosemary Antioxidant CO2, Blood Orange Therapeutic Grade Essential Oil
Product Care
Store in cool and dry place.
Cloudiness may occur due to temperature changes and it's perfectly normal as the ingredients are unrefined with all nutrients intact.
Best used within 12 months of purchase.
---