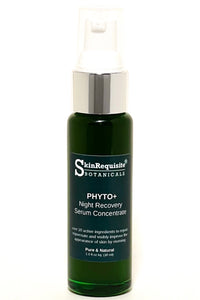 SKINREQUISITE
Phyto+ Night Recovery Serum
Regular price
$36.00
$0.00
Unit price
per
Skincare concerns:
Fine lines and wrinkles     ⚫︎⚫︎⚫︎⚫︎⚫︎
Firmness & elasticity       ⚫︎⚫︎⚫︎⚫︎⚫︎
Dryness & dullness          ⚫︎⚫︎⚫︎⚫︎⚫︎
Oily & combination          ⚫︎⚫︎⚫︎⚫︎⚫︎
Hyperpigmentation         ⚫︎⚫︎⚫︎⚫︎⚫︎
Acne and Blemishes        ⚫︎⚫︎⚫︎⚫︎⚫︎
Sensitivity                         ⚫︎⚫︎⚫︎⚪︎⚪︎
Potent Phyto Recovery Multi Tasking Night Serum  is formulated from the world's most nutrient rich botanicals which work in synergy to help skin repair itself from daily aggressors for radiant, younger-looking skin by morning.
Suggested Use:
Apply 1-2 pumps every evening to face and neck after cleansing and prior moisturizer. For best results apply Skinrequisite Vitamin C 18% or Niacinamide 12% Serum Booster first. 
INGREDIENTS:
Witch Hazel Hydrosol, Sodium Hyaluronate (Hyaluronic Acid), Chrysanthemum Extract, Grapeseed Extract, Witch Hazel Extract, Horsetail Extract, Chamomile Extract, Cucumber Peel Extract, Licorice Extract, Milk Thistle (Silymarin) Extract, Rosehip Extract, Rosemary Milk Extract, Sea Buckthorn Extract, White Willow Bark Extract, Green Tea Extract, Olive Leaf Extract, Aloe Vera Extract, Sunflower Extract, Banaba Leaf Extract, Pine Pollen Extract, Ashwagandha Extract, Ginkgo Biloba Leaf Extract, Neroli Extract, Parsley Extract, Amla Extract, Arnica Extract, Star Anise Extract, Essential Amino Acids: (L-Glycine, Glutamine, Taurine), Glucosamine, MSM, Vitamin B5, Potassium Sorbate, Germal Plus, Therapeutic Grade EO
---