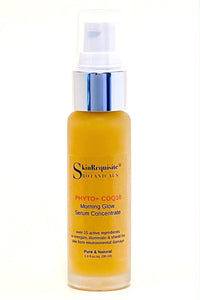 SKINREQUISITE
Phyto+ CoQ10 Morning Glow Serum
Regular price
$38.00
$0.00
Unit price
per
Skincare concerns:
Fine lines and wrinkles     ⚫︎⚫︎⚫︎⚫︎⚫︎
Firmness & elasticity       ⚫︎⚫︎⚫︎⚫︎⚫︎
Dryness & dullness          ⚫︎⚫︎⚫︎⚫︎⚫︎
Oily & combination           ⚫︎⚫︎⚫︎⚫︎⚫︎
Hyperpigmentation          ⚫︎⚫︎⚫︎⚫︎⚫︎
Acne and Blemishes        ⚫︎⚫︎⚪︎⚪︎⚪︎
Sensitivity                         ⚫︎⚫︎⚫︎⚫︎⚪︎
 Phyto+ CoQ10 Morning Glow Concentrate Serum offers exceptional skin benefits from defending skin from external skin-aging stressors while refining skin's appearance, to energy supporting properties to reinforce skin resiliency and elasticity. Robust phytonutrients, vitamins, minerals and amino acids content of 15+ active ingredients work synergistically to promote radiance, suppleness and bounce.
Benefits:
-Protects against stressors including sun exposure, pollution, and temperature 
-Visibly improves skin texture and tone
-Helps prevent hyper-pigmentation
-Counteracts the skin damage caused by photo-aging
-All skin types and ages
CoEnzyme Q10 energizes your skin. Young skin has ample amounts of CoQ10 and so has lots of energy – energy needed to repair damage and make sure the skin cells are healthy.
It protects against photo-ageing – that means premature aging due to over exposing the skin to the sun.
It rejuvenates skin by stimulating skin cell activity. Active skin cells get rid of toxins easily and can make better use of nutrients. When your skin ages, all these processes slow down, causing dull and sallow, wrinkled skin. Boost your skin cell activity for younger looking skin with CoQ10.
It stimulates collagen production. Collagen is the protein that decreases as we age, leading to wrinkles and leathery skin. Helping you make more collagen, CoQ10 is a skin saving essential.
It is a potent anti-oxidant that acts against oxidative damage. This damage is done by, for example: UV rays of the sun, pollution, toxins, stress. And this damage all leads to one thing: premature aging that shows up on the skin. Anti-oxidants like CoQ10 are the answer and have a critical role to play in both the body and the skin.
Suggested use:
Apply 1-3 pumps to face, neck, and décolleté prior moisturizer. 
Phyto+ CoQ10 Morning Glow Concentrate is compatible with our Vitamin C 18% & Niacinamide 20% Boosters. Our boosters should be applied prior Phyto+ CoQ10 Morning Glow Concentrate serum followed by a moisturizer to lock in moisture and nutrients in the skin. 
Ingredients:
Witch Hazel Hydrosol, Ginseng Root and Leaf Extract, Ginger Root Extract, Coq10, Chamomile Extract, Pine Pollen Extract, Maca Root, Turmeric Extract, Nutmeg Extract, Banana Extract, Olive Fruit Extract, Aloe Vera Extract, Lavender Extract, Lemon Extract, Rosemary Antioxidant CO2 Extract, Hyaluronic Acid, Ferulic Acid, Glucosamine, MSM, Essential Amino Acids: (L-Glycine, Glutamine, Taurine), Vitamin A, Tocopherol (Natural Vitamin E), Pro Vitamin B5, Ylang ylang Theraputic Grade EO, Potassium Sorbate, Germall Plus
Product Care:
Store in dark cool place. Best used within 6 months of purchase, if refrigerated discard after 12 months of purchase.
---