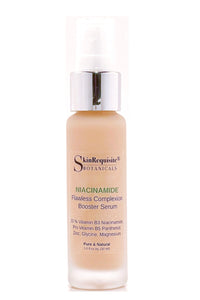 SKINREQUISITE
Niacinamide Flawless Skin Serum Booster
Regular price
$36.00
$0.00
Unit price
per
Skincare concerns:
Fine lines and wrinkles     ⚫︎⚫︎⚫︎⚫︎⚫︎
Firmness & elasticity        ⚫︎⚫︎⚫︎⚫︎⚫︎
Dryness & dullness          ⚫︎⚫︎⚫︎⚫︎⚫︎
Oily & combination           ⚫︎⚫︎⚫︎⚫︎⚫︎
Hyperpigmentation          ⚫︎⚫︎⚫︎⚫︎⚫︎
Acne and Blemishes         ⚫︎⚫︎⚫︎⚫︎⚫︎
Sensitivity                          ⚫︎⚫︎⚫︎⚫︎⚪︎
Niacinamide 20% lavender infused Flawless Complexion Booster is packed with vitamins, antioxidants, essential minerals and botanicals to address many concerns, such a fine lines and wrinkles, dehydration, dullness, hyperpigmentation, acne, oiliness, and especially stubborn dark spots and enlarged pores.
Our dermatologist-tested Skin Booster contains Niacinamide at a safe, effective 20% concentration, suitable for all skin types, including sensitive and mature and it is compatible with many actives including Vitamin C, Glycolic acid and even Retinol so you can incorporate it into your routine easily without worrying about adverse reactions.
Extensive research has shown Niacinamide works to protect skin from environmental damage and also encourages skin to make more collagen and hyaluronic acid. It shows to improve hydration, reduce signs of aging, diminish enlarged pores, and significantly decrease skin discoloration. Niacinamide, super-star catch-all ingredient, is a true anti-aging multitasker for all skin types and ages. A must have for every skincare routine.
Apply daily 2-3 sprays to clean face and neck prior eye serum and moisturizer in the AM or/and PM. Apply to the palms of your hands and transfer to your face.
Ingredients:
Pure Lavender Hydrosol, Vitamin B3 (Niacinamide), Lavender Extract, Pro Vitamin B5 (Panthenol), Glycine, Magnesium, Zinc Gluconate, Glucosamine, MSM, Witch Hazel Extract, Tocopherol (Natural Vitamin E), Vegetal, Sunflower Lecithin, Lavender Therapeutic Grade EO
Product Care:
Keep the bottle air tight. Store in cool and dark place. Best used within 8 months from purchase.
---