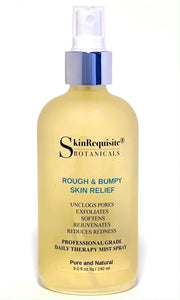 SKINREQUISITE
Rough and Bumpy Skin Relief
Regular price
$26.00
$44.00
Unit price
per
Unclogs pores
It helps heal and rejuvenate the skin

Breaks down keratin build up  (Keratosis Pilaris)

Removes dead skin

Softens skin

Improves skin hydration

Deeply moisturizes
Helps with body blemishes
Helps lighten scars
Rough and Bumpy Skin Relief is formulated with an exfoliating blend of AHAS and deeply moisturizing Niacinamide and Pro-Vitamin B5 to exfoliate and condition even the roughest, bumpy dry skin: on the back of the arms, thighs, buttocks, back.. 
With daily use skin becomes consistently smoother and softer. 
Directions
Spray lightly on affected area not previously exfoliated*, usually 1-2 sprays, allow to dry and apply Turmeric Body Oil. Depending on sensitivity it can be used daily.
*wait 1-2 days after using exfoliants (scrubs, body brush etc) as it may cause irritation and increase sensitivity.
AHA acids may increase photosensitivity, avoid the sun after treatment. Store in dark, cool place. 
Ingredients 

Original Witch Hazel Hydrosol, Aloe Vera, Fruit Aha Acids Blend,  Niacinamide (Vitamin B3), Pantothenic Acid (Vitamin B5), Potassium Sorbate, Germall Preservative
Why Rough and Bumpy Skin Relief is an excellent treatment for Keratosis Pilaris?
Keratosis pilaris is caused by a buildup of keratin, the protein that protects skin from infections and other harmful things. The buildup forms a plug that blocks the opening of a hair follicle, but doctors don't know what triggers the buildup. If you have dry skin, you're more likely to have keratosis pilaris. 
The formula only contains an unique combination of concentrated Witch Hazel, high levels of Niacinamide Vitamin B3 and Pantothenic Acid Vitamin B5, Fruit Acids and Enzymes, Zinc and Aloe Vera.
Witch Hazel 
Relieves inflammation
Fights acne
Tightens pores
Seals in water
Tones the skin
Reduces irritation
Niacinamide Vitamin B3
Restores compromised skin barrier functions, which look like flaky, dehydrated, or irritated skin.
Reduces redness and flushing.
Fades surface hyperpigmentation, especially when caused by acne.
Acts as an antioxidant to slow down the aging process and prevent free radical damage. Improves skin elasticity, and reduces fine lines and wrinkles.
Minimizes the look of pores.
Calms and reduces active acne
Pantothenic Acid Vitamin B5 helps keep skin soft, smooth and healthy. It also has an anti-inflammatory effect that can help stimulate your skin's healing processes. Deeply hydrating, it helps keep skin quenched by absorbing moisture from the air (clever!).
Fruit Acids and Enzymes help to exfoliate the abnormally accumulated keratin and help loosen and remove dead skin cells. They also moisturize and soften dry skin.
Zinc works as an antioxidant. Though not technically an antioxidant (like vitamins C and E, for example), zinc is a key part of your skin's dietary defense squad. The mineral lessens the formation of damaging free radicals and protects skin's lipids (fats) and fibroblasts—the cells that make collagen, your skin's support structure—when skin is exposed to UV light, pollution and other skin-agers.
It helps heal and rejuvenate the skin. When you cut yourself, zinc goes to work. First, the amount of the mineral in the skin surrounding the cut increases as enzymes and proteins ramp up to protect against infection, control inflammation and produce new cells and transport them to close up the broken skin. But even healthy, intact skin relies on zinc for new cell production and the function of cell membranes.
IT MAY WARD OFF ACNE FLARE-UPS. Pimples develop when a buildup of oil, bacteria and skin cells block pores, causing the skin around the pore to turn red, swollen and tender. Zinc, which boosts immune function, may help control that inflammatory response. What's more, because zinc regulates cell production and turnover, and can help reduce the amount of natural oil your skin produces, it may prevent pores from clogging in the first place. 
---