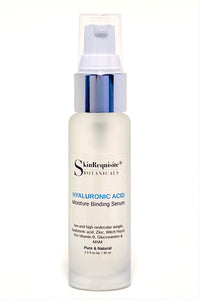 SKINREQUISITE
Hyaluronic Acid Moisture Binding Serum
Regular price
$34.00
$44.00
Unit price
per
Penetrates the skin and binds skin cells to water, infusing all layers of the skin with valuable & rejuvenating moisture. As it fills the skin with moisture, Hyaluronic acid tightens the overall complexion and firms counters for a more youthful appearance.
Benefits of Hyaluronic Acid:
-tightens pores 
-plumps skin
-hydrates
-balances skin's PH
-reduces redness
-diminishes dark spots
-rejuvenates skin
How to use:
Apply 1-2 pumps to face and neck, let it absorb before applying moisturizer.
Ingredients:
Witch Hazel Hydrosol, Witch Hazel Extract, Sodium Hyaluronate, Glucosamine, MSM, Zinc Gluconate, Germall Plus.
---