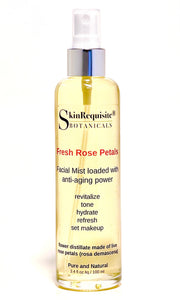 SKINREQUISITE
Fresh Rose Petals Facial Mist
Regular price
$42.00
$0.00
Unit price
per
100% Pure and Natural Rose Water is made of live rose petals (Rosa Demascena) and has an uplifting floral scent to awaken your senses while helping to revitalize your skin. A refreshing mist which helps naturally tone & soften the skin, close open pores, while promoting radiant complexion. The Rose Water is not only a beautiful refreshing fragrant, but also extremely versatile. It has an extensive range of uses: facial toner, hair perfume, cooling facial mist, makeup setting spray, even linen freshener..
Suggested use:
Spritz your face a few times and gently rub it in with a cotton pad. It's recommended after cleansing and before applying products: serums and moisturizers.
Use it as makeup setting spray or just to refresh your skin throughout the day especially on hot summer days - gently spritz Rose mist 10-12 inches from your face.
Ingredients:
100% Pure rose floral water (rosa damascena flower distillate)
Product Care:
Store in cool and dark place.
---