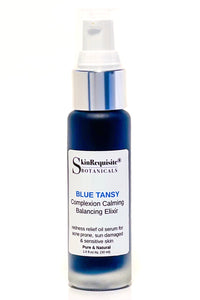 SKINREQUISITE
Blue Tansy Facial Oil
Regular price
$38.00
$52.00
Unit price
per
Skincare concers:
Fine lines and wrinkles      ⚫︎⚫︎⚫︎⚫︎⚫︎
Firmness & elasticity         ⚫︎⚫︎⚫︎⚫︎⚫︎
Dryness & dullness            ⚫︎⚫︎⚫︎⚫︎⚫︎
Oily & combination             ⚫︎⚫︎⚫︎⚫︎⚫︎
Hyperpigmentation            ⚫︎⚫︎⚫︎⚫︎⚪︎
Acne and Blemishes           ⚫︎⚫︎⚫︎⚫︎⚫︎         
Sensitivity                            ⚫︎⚫︎⚫︎⚫︎⚫︎
Blue Tansy with ceramides without a doubt is a luxurious treatment for troubled/acne inflamed and combination effective anti-aging regimen ever! 

Azulene, the precious deep blue color, is reputed as a very powerful anti inflammatory compound which can reduce redness and clarify skin, oily, blemish and pigmentation prone complexions, this drop-dead gorgeous elixir is a must have in your cabinet.
Excellent post chemical peel, laser or microdermabrasion treatment. 
In clinical studies azulenes have been shown to exhibit dramatic anti inflammatory effects and significant antioxidant protection. In practical terms this means, that application of these natural substances will help prevent skin blemishes from developing and counter deterioration of skin cells that lead to fine lines, wrinkles and hyper pigmentation. 
Suggested use:
Apply 1-2 pumps to cleansed skin on the face and neck prior moisturizer.  
Ingredients:
Carefully handcrafted for 10-12 weeks
 Blue Tansy Dried Flowers, Abyssinian Oil (crambe abyssinica), Meadowfoam Oil (limnanthes alba), Tocopherol (Vitamin E), Organic Blue Tansy Therapeutic Grade Essential Oil (tanacetum annuum)
Store in dark and cool place. Best used within 12 months of purchase. 
---