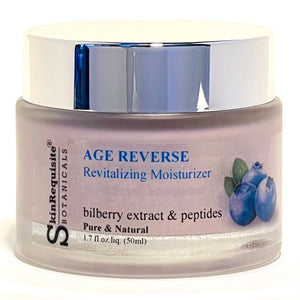 SKINREQUISITE
Bilberry Extract Age Reversing Moisturizer
Regular price
$36.00
$0.00
Unit price
per
Skincare concerns:
Fine lines and wrinkles      ⚫︎⚫︎⚫︎⚫︎⚫︎
Firmness & elasticity         ⚫︎⚫︎⚫︎⚫︎⚫︎
Dryness & dullness            ⚫︎⚫︎⚫︎⚫︎⚫︎
Oily & combination             ⚫︎⚫︎⚫︎⚫︎⚪︎
Hyperpigmentation            ⚫︎⚫︎⚪︎⚪︎⚪︎       
Acne and Blemishes          ⚫︎⚫︎⚪︎⚪︎⚪︎         
Sensitivity                           ⚫︎⚫︎⚫︎⚫︎⚪︎
Bilberry Fruit Extract Age Reversing Moisturizer regenerates tired, pale and stressed skin, leaving it revitalized and rosy. Bilberry fruit contains chemicals known as anthocyanosides, plant pigments with excellent antioxidant properties that can help to prevent and even reverse damage to cells caused by free radicals.
Bilberry's astringent properties are cleansing, tightening and nourishing. 
Suggested use:
Apply only a pea size to clean face and neck by gently patting it in so all the ingredients can be properly absorbed by your skin. For best anti-aging effects and antioxidant protection apply first Skinrequisite Vitamin C 18% Serum Booster.
Ingredients:
Organic Aloe Vera Juice, Aloe Vera Gel, Witch Hazel Hydrosol, Shea Butter, Vitamin E (D-Alpha-Tocopherol), Jojoba Oil, Jojoba Ester, Bilberry Fruit Extract, Sunflower Lecithin, Ginger Root Extract, Witch Hazel Extract, Collagen Peptide, Sodium Hyaluronate, Glycine, Glucosamine, MSN, Zinc, Magnesium, Niacinamide B3 Vitamin, Probiotics, Cera Alba, Potassium Sorbate, Germal Plus
Best used within 4 months of purchase. Discard after 6 months or refrigerate up to a year. Store in dark cool place.
It may change color and consistency due to temperature changes. Best stored between 60-74 degrees  
---