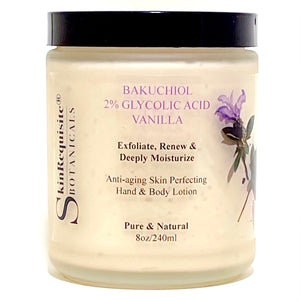 SKINREQUISITE
Bakuchiol Anti-aging Hand & Body Lotion 🌱Vegan
Regular price
$46.00
$0.00
Unit price
per
For dry, flaky, wrinkled, dull and rough (KP) skin
Bakuchiol, natural retinol alternative, lightweight texture Hand and Body Lotion has been thoughtfully designed to penetrate deep into the skin to help stimulate skin cell turnover rate, visibly reduce the appearance of wrinkles, improve elasticity & firmness and soften dark spots.
This skin-perfecting Bakuchiol Hand and Body Lotion absorbs instantly to provide long lasting moisture and creates a soft satin finish revealing firm and healthy skin.
Clinical studies have confirmed that Bakuchiol, an Ayurvedic herbal extract from an ancient medicinal plant from India, is a true retinol-like functional compound without the negative effects of retinol. In other words, Bakuchiol is a potential game-changer for those who struggle with sensitive or reactive skin and aren't confident in the risk-to-reward ratio of retinol.
Glycolic Acid can help smooth fine lines and wrinkles and improve the skin's tone and texture. Glycolic acid plumps the skin and helps boost hydration levels. 
Little product goes a long way. Best used at night on completely dry skin (moist skin after shower will neutralize glycolic acid - wait 15 minutes after shower to apply the lotion for maximum benefits). It may cause skin redness and irritation when in the sun. Always use sunscreen when using Alpha Hydroxy Skin Care Products. Not recommended to use after taking long hot baths, especially epson salt baths which are highly alkaline as it may cause skin irritation. Not recommended to use on face. 
Ingredients:
Bakuchiol Butter, Witch Hazel Hydrosol, Bakuchiol Oil,  Vegetal, Vitamin E, Vegetable Glycerin, Glycolic Acid, Vegan Emulsifier 100% Natural, Bakuchiol Extract, LIvo rice Extract, Germall Plus, Vanilla Natural Fragrance Oil 
---