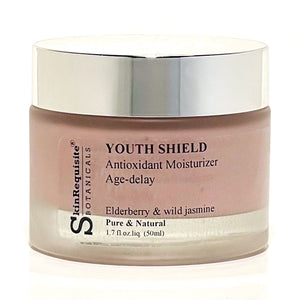 SKINREQUISITE
Youth Shield Antioxidant Moisturizer Elderberry
Regular price
$38.00
$0.00
Unit price
per
Youth Shield Antioxidant Moisturizer proactively fights harmful free radicals that accelerate the signs of aging while floods skin with weightless moisture to enhance skin's natural luminosity.
Elderberries is a flavonoid powerhouse: quercetin, rutoside, hesperidin and anthocyanins are joined by substantial amounts of Vitamins A, B6, E and C, and along with the additional polyphenols and carotenoids present - these nutrients will deeply protect our skin cells against sun & other free-radical damage and are excellent for making our skin firmer, improving complexion and evening out skin tone.
Youth Shield Antioxidant Moisturizer is recommended and was formulated for all skin types, conditions, and tones. However, if you are looking for something to help with dehydrated, combination and dull skin tone, this is your product.  
Functions:
• Protects against environmental damage
• Maintains and improves skin elasticity, hydration, and vitality
• Improves surface hydration and develops a bright complexion resistant to breakouts
Ingredients:
Wild Jasmine Toner Water, Kokum Butter, Elderberry Fruit Oil, Wild Jasmine Oil, Collagen Peptide, Vegetal, Sunflower Lecithin, Vitamin E (D-Alpha-Tocopherol), Vegetable Glycerin, Cera Alba, Sodium Hyaluronate (Hyaluronic Acid), Elderberry Fruit Extract, L-Glycine, Witch Hazel Extract, Zinc Gluconate, L-Lysine, L-Taurine, L-Theanine, Glucosamine MSN, Sodium Gluconate, Germal Plus
---