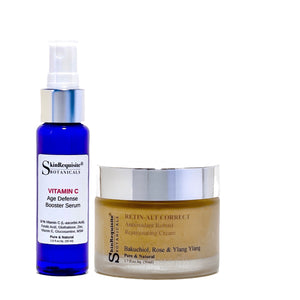 SKINREQUISITE
Vitamin C Serum + Bakuchiol Rejuvenating Night Cream
Regular price
$76.00
Sale price
$84.00
Unit price
per
18% Vitamin C Booster Serum
Our 18% Vitamin C(L-ascorbic acid) Booster Serum is a multipurpose workhorse that can protect, repair, and visibly enhance appearance of all skin types and conditions.
Clinically shown to:
improve elasticity 

increase smoothness

visibly enhance complexion

armor skin against pollution and other free radicals

improve acne and rosacea 

strengthen capillaries 
Key ingredients + Benefits
Glutathione - is an extremely powerful antioxidant: from skin brightening properties to suppression of wrinkles and increased smoothness
Ferulic Acid - is an antioxidant that works to boost the effects of other antioxidants
Vitamin E - antioxidant that encourages healthy skin-tissue growth
Vitamin A - has been shown to smooth wrinkles and clear up acne
Zinc - helps prevent visible signs of aging, keep dark spots at bay, relieve redness, and fight acne
Calcium - has been shown to help your skin regulate cell turnover via cell differentiation by replacing old skin cells with new ones
Magnesium - helps reduce acne, calms sensitive skin and rosacea
Glucosamine - because of its stimulation of hyaluronic acid synthesis, glucosamine has been shown to accelerate wound healing, improve skin hydration, and decrease wrinkles
MSM - helps reinvigorate collagen production after it starts to decline. Anti-inflammatory properties
Suggested use:
Apply only 2-3 sprays Vitamin C 18% serum booster to clean face and neck before moisturizer. 
Bakuchiol Rejuvenating Night Cream

Indulge your senses and turn back time to firmer, smoother and luminous looking skin with this antioxidant-rich limited-edition cream. This divine cream is now better than ever: the velvety texture and the subtle scent is so delicious you just want to keep putting it on.
Key ingredients:
Bakuchiol, an Ayurvedic herbal extract from an ancient medicinal plant from India, is a true retinol-like functional compound without the negative effects of retinol, clinical studies confirmed. In other words, Bakuchiol is a potential game-changer for those who struggle with sensitive or reactive skin and aren't confident in the risk-to-reward ratio of retinol.
Rosehip is full of vitamins, antioxidants and essential fatty acids. Rosehip is rich in Vitamin A, which is known to help fight against age spots and wrinkles.
Niacinamide, super-star catch-all ingredient, is a true anti-aging multitasker for all skin types and ages.
Zinc is a key part of your skin's dietary defense squad, helps heal and rejuvenate the skin.
Murumuru butter improves skin damage & elasticity: The butter also has excellent anti-aging properties, due to its rich fatty acid and antioxidant contents. Murumuru has a rich quantity of Vitamin A, which helps restore elasticity for aging or damaged skin. Murumuru butter is non-comedogenic.
Kokum butter is especially a great alternative for those with sensitive skin. Its ability to rejuvenate damaged skincells is a killer way to combat wrinkles, fine lines, and age spots. Kokum butter is non-comedogenic.
Ucuuba Butter is exceptionally rich in essential fatty acids which can replenish tone and moisture to dry or mature skin. Ucuuba butter is non-comedogenic.
Ylang Ylang Essential Oil is known to balance and regulate oil production in the skin, while also soothing inflammation and irritation. It enhances circulation, encourages the growth of new skin, contributes and maintains hydration, conditions, and prevents infections.
Rose Essential Oil benefits include helping skin heal from scars and moisturizing it, fighting inflammation, and promoting circulation.
Turmeric can block the enzyme elastase, which attacks your skin's ability to produce elastin — a substance which gives your skin structure.
Suggested use:
Apply only a pea size to clean face and neck by gently patting it in the skin. Avoid the eyes. 
---